BOOKS BY J.M. BERGER
Commission paid on purchases from this site.
A PALER SHADE OF WHITE
Discussions of extremist ideologies naturally focus on how in-groups criticize and attack out-groups. But many important extremist ideological texts are disproportionately focused on criticizing their own in-group. A new research report from J.M. Berger uses linkage-based analysis to examine Siege, a White nationalist tract that has played an important role in shaping modern neo-Nazi movements, including such violent organizations as Atomwaffen Division and The Base. While Siege strongly attacks out-groups, including Jewish and Black people, the book is overwhelmingly a critique of how the White people of its in-group fall short of Nazi ideals. Siege's central proposition—that the White in-group is disappointing, deeply corrupt, and complacent—shapes its argument for an "accelerationist" strategy to hasten the collapse of society in order to build something entirely new.
NEW: CHALLENGES IN EXTREMISM RESEARCH
The study of violent extremism is entering a new phase, with shifts in academic focus and policy direction, as well as a host of new and continuing practical and ethical issues and obstacles. J.M. Berger contributed a chapter to an edited volume for the
Resolve Network
on the challenges ahead for scholars of extremism and some strategies for improving the state of research.
Read the full chapter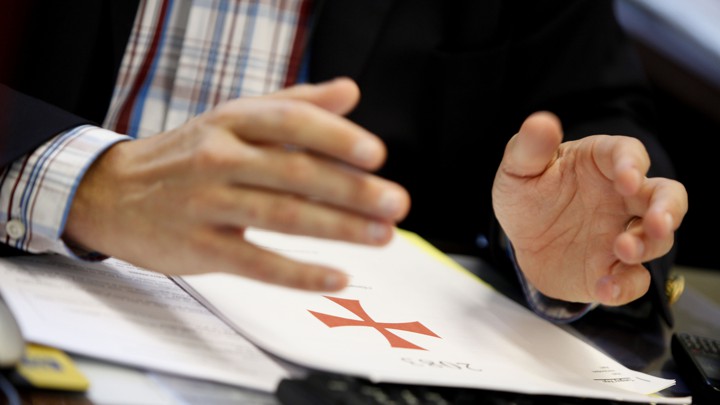 NEW: MAN AND MANIFESTO
Nearly eight years ago, the Norwegian extremist Anders Behring Breivik set the bar for what an individual terrorist could accomplish—detonating a truck bomb in Oslo that killed eight, then murdering 69 more, mostly teenagers, with semiautomatic weapons in another nearby location. Today, he and the 1,500-word manifesto he published to contextualize his actions are inspiring new extremists to take up violence.
The Atlantic:
The Dangerous Spread of Extremist Manifestos
OUT NOW: 'EXTREMISM' by J.M. BERGER
A rising tide of extremist movements threaten to destabilize civil societies around the globe. It has never been more important to understand extremism, yet scholars and policy makers can't even define who is an extremist and why. In this volume in the MIT Press Essential Knowledge series, J. M. Berger offers a nuanced introduction to extremist movements, explaining what extremism is, how extremist ideologies are constructed, and why extremism can escalate into violence. Berger shows that although the ideological content of extremist movements varies widely, there are common structural elements. Using diverse case studies, he describes the evolution of identity movements, individual and group radicalization, and more. If we understand the causes of extremism, and the common elements of e
xtremist movements, Berger says, we will be more effective in countering it.
Readers react: Read the first reviews on Twitter
Buy now! 'Extremism,' Kindle edition, by J.M. Berger
Buy now! 'Extremism,' Google Books edition, by J.M. Berger
Buy now! 'Extremism,' print edition, by J.M. Berger
THE ALT-RIGHT TWITTER CENSUS
VOX-Pol has released its latest report in the VOX-Pol publication series, titled
The Alt-Right Twitter Census: Defining and Describing the Audience for Alt-Right Content on Twitter
, authored by
J.M. Berger
, on 15 October 2018.
This report defines and describes the alt-right audience on twitter, and identifies the top ten most influential twitter accounts for the alt-right online. Since 2016, the alt-right have held a significant spot in global politics due to their continually expanding online presence. The report examines this online presence 'with robust metrics and an analysis of content shared by adherents', primarily on Twitter.
All VOX-Pol reports are open-access. This report is available for download
HERE
. If you would like to receive a hard copy of the report, please email
info@voxpol.eu
with your request.
Related:
Trump Is the Glue That Binds the Far Right
OUT OF MANY, ONE: DEFINING THE OPPOSITE OF EXTREMISM
Extremism has existed for thousands of years, and it comes in many flavors. It is part of the human experience and not exclusive to any one group. And thanks to a brave new world of instant global connectivity, the problem is perhaps more diverse than ever before. Extremism is a socially transmitted disease, and there are more vectors for infection than at any time in history. While it is tempting to review recent history, and conclude that extremists are somehow "winning the war of ideas," that isn't exactly true.
DECONSTRUCTION OF IDENTITY CONCEPTS IN ISLAMIC STATE PROPAGANDA
In a March 2017 paper published by the International Centre for Counter-Terrorism—The Hague, this author introduced a framework for studying the construction of extremist identity through ideological texts. This Report will examine the framework against a historical example of the so-called Islamic State (IS) propaganda to illustrate how messaging strategies can be based on insights derived from the framework and the resulting analysis.
Read the full paper
UNDERSTANDING ISIS IDEOLOGY
As surely as night follows day, demands to defeat "the ideology" emerge after a terrorist attack, in increasingly urgent tones. After the terrorist attack Saturday night in London, Prime Minister Theresa May offered the latest iteration of that ritual, a refrain heard since the days of George W. Bush. Yet it should be obvious that the West's obsessive focus on combatting ideology has produced no quantifiably positive results.
Read the full analysis at ICCT -- The Hague
EXTREMIST CONSTRUCTION OF IDENTITY
This
International Centre for Counter-Terrorism – The Hague, Counter-Terrorism Strategic Communications Project
Research Paper examines how the white supremacist movement Christian Identity emerged from a non-extremist forerunner known as British Israelism. By examining ideological shifts over the course of nearly a century, the paper seeks to identify key pivot points in the movement's shift toward extremism and explain the process through which extremist ideologues construct and define in-group and out-group identities. Based on these findings, the paper proposes a new framework for analyzing and understanding the behavior and emergence of extremist groups. The proposed framework can be leveraged to design strategic counter-terrorism communications programs using a linkage-based approach that deconstructs the process of extremist in-group and out-group definition. Future publications will continue this study, seeking to refine the framework and operationalize messaging recommendations.
Read the full research paper
Related:
The Dangerous New Americanism
HOW DONALD TRUMP WON THE VOTE FROM SKEPTICAL WHITE NATIONALISTS
But it wasn't always like this. Even after years of championing racially tinged questions about President Barack Obama's birthplace, as recently as 2015 Trump was treated with disdain and suspicion by most white nationalists. Many claimed he was secretly Jewish, or in thrall to Jewish interests. Others saw him as a blowhard and egomaniac, a mercenary who was out only for himself. This is the story of how Trump won not only their votes but, eventually, their enthusiasm.
The Turner Diaries, the infamous racist dystopian novel by neo-Nazi William Luther Pierce, has inspired more than 200 murders since its publication in 1978, including the single deadliest act of domestic terrorism in U.S. history, the Oklahoma City bombing.

The book is arguably the most important single work of white nationalist propaganda in the English language, but it is not a singular artifact. The Turner Diaries is part of a genre of racist dystopian propaganda dating back to the U.S. Civil War. A new paper from J.M. Berger documents the books that directly and indirectly inspired Turner and examine the extensive violence that the novel has inspired.
Related posts on World Gone Wrong:
One of the most popular tropes in dystopian fiction is the "violent spectacle." Immortalized in recent years by The Hunger Games series, the concept is simple: A corrupt society uses some public display or broadcast of violence to manipulate the masses. But it's never been purely fiction.
New blog: World Gone Wrong
GWU Paper: What Sovereign Citizens Believe
Members of the sovereign citizen movement are increasingly in the news for their violent confrontations with law enforcement, but their confusing ideology can be difficult to understand. This paper explains in simple language what sovereigns believe, and where those beliefs originated. |
Read the full paper (PDF)
BOOKS BY J.M. BERGER
"...the world Facebook built..."
Optimal: The new novel by J.M. Berger
"Berger's absorbing story skewers reliance on social media... A sharp, gripping story of a bleak future." —
Kirkus Reviews
"The characters are charismatic and will keep readers invested. ... Berger compellingly explores the predicaments of a globally networked civilization in this stimulating, immersive book." —
BookLife
The Algorithm Wars have ended, and the world has been optimized. Thanks to the System, everything that happens is recorded, liked, commented, shared and analyzed at scale in order to produce nonstop and ever-improving recommendations about what kind of job you should have, what kind of food you might enjoy, what kind of music you might like, what kind of exercise you need, and what kind of person you might want to sleep with.
It is a world of total information and total freedom… although things tend to go more smoothly when you follow the System's recommendations.
Buy now
---
"...excellent introductory text..."
Extremism
"Elegantly written, the book provides a lucid discussion of a contested concept, with illustrating examples from right-wing, left-wing, and religious terrorism. For anyone new to the extremism landscape, it is an excellent introductory text to better understand political extremism." --
Perspectives on Terrorism
More on Extremism
---
"...smart, granular analysis..."
ISIS: The State of Terror
"Jessica Stern and J.M. Berger's new book, "ISIS," should be required reading for every politician and policymaker... Their smart, granular analysis is a bracing antidote to both facile dismissals and wild exaggerations... a nuanced and readable account of the ideological and organizational origins of the group." --
Washington Post
RECENT VIDEO
TOP STORIES AND RESEARCH
THE ISIS TWITTER CENSUS
In a groundbreaking study for the Brookings Institution's Project on U.S. Relations with the Islamic World, , J.M. Berger and Jonathon Morgan identified 20,000 ISIS-supporting Twitter accounts and analyzed their characteristics, profiles, locations and tweeting activity. The study estimates a minimum of 46,000 ISIS-supporting accounts were active in October and November 2014, and provides data and insights on how the suspension of thousands of accounts have impacted the performance of the network. For more reporting on ISIS and its use of media, read ISIS: The State of Terror, the new book by J.M. Berger and Jessica Stern, on sale everywhere.

Full report | News story | ISIS: State of Terror


---
---

WHO MATTERS ONLINE: METRICS FOR ANALYZING EXTREMIST SOCIAL NETWORKS

Through the analysis of thousands of Twitter accounts following prominent white nationalists and anarchists, "Who Matters Online: Measuring influence, Evaluating Content and Countering Violent Extremism in Online Social Networks" offers new quantitative tools to identify highly engaged extremists in large social networks and to evaluate tactics for combating violent extremism (CVE) online. Authored by ICSR Associate Fellow J.M. Berger and Bill Strathearn, Who Matters Online: Measuring influence, Evaluating Content and Countering Violent Extremism in Online Social Networks demonstrates how quantitative analysis can identify highly engaged extremists in large social networks.

Full report



Monsters and Children: Politicians and Muslims


INTELWIRE EXCLUSIVE DOCUMENTS
ABOUT J.M. BERGER
J.M. Berger is a researcher, analyst and consultant, with a special focus on extremist activities in the United States, and extremist propaganda and use of social media. He is an associate fellow with the International Centre for Counter-Terrorism, The Hague and was previously a non-resident fellow with the Brookings Institution. Berger is co-author of ISIS: The State of Terror with Jessica Stern and author of Jihad Joe: Americans Who Go to War in the Name of Islam. Berger has written for the New York Times, Politico, The Atlantic and Foreign Policy. He has served as an on-air consultant with PBS and as a producer for NPR. | Selected Works and Citations

In addition to writing for the media, Berger consults for and trains private companies and government agencies on issues related to homegrown terrorism, online extremism, foreign fighters and advanced social media analysis. He has lectured at Harvard University, American University, the Fletcher School of Law and Diplomacy at Tufts University and Utrecht University, the Netherlands.




J.M. BERGER RESEARCH AREAS
Homegrown violent extremism (HVE and CVE)
Terrorist and extremist use of the Internet
Lone wolf and loosely networked terrorism
American jihadists including Anwar Awlaki
History of jihadist terrorism in the U.S.
History of right-wing extremism in the U.S.
Al Qaeda infiltration and targeting of U.S. military
Early Al Qaeda history and structure
Terrorist tactics and financing
Jihadist activity during Bosnian civil war
Document research and FOIA